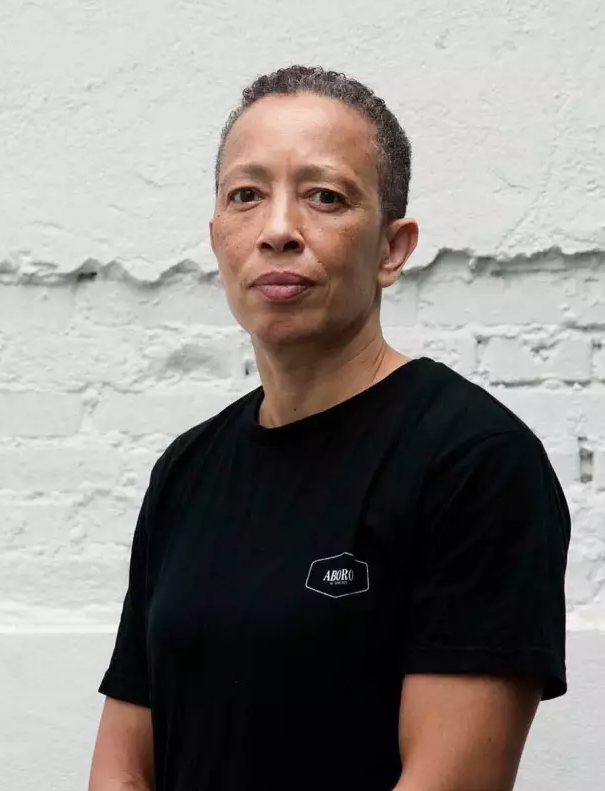 Michele Aboro
Michele Aboro was born on July 17, 1967. She ranks as one of the greatest women boxers in history, retiring as an undefeated Women's International Boxing Federation Super Bantamweight champion. She also excelled as a kickboxer and motivational trainer.
Michele Aboro was born in Hammersmith, West London, and relocated to Peckham in South London at the age of two when her parents separated. Her Nigerian father died when she was sixteen. She says of growing up in Peckham, "[It] was quite a rough area but growing up there, I got used to it. It was in the newspapers for being a no-go area. The police didn't even want to go there. But I found it a really tight-knit family community. You knew everybody and everybody knew you and looked out for you, so I had a wonderful childhood there."
Aboro is proudly lesbian and says she has known since she was about four or five. She had stopped wearing dresses and had a "play girlfriend" from a very young age. "We used to kiss each other. It was very innocent and sweet but it was very genuine, too. I still have contact with her today."
When she was thirteen, Aboro became acquainted with a lesbian couple in her neighborhood. That was when she realized, "It could be a bad thing that you could get into trouble because of it, because of loving somebody of your own sex. But before that, I never heard anyone talk about it or put it down. Most of my male friends in England are black Jamaican guys who are meant to be the most homophobic people on the planet but I have never been called a dyke or a lesbian or been put down about my sexuality. If I go over, my friends say, 'You wanna stay at my house? Bring your girlfriend along.' Maybe I'm just lucky with the people I have around me. It was only when these two women moved into the area that the word 'gay' ever came up."
The first sport Michele Aboro took any interest in was motocross. But she also had an early interest in combat sports as a little girl growing up the 1970s. At that time, women were legally prohibited from participating in boxing. Because she could not box, she took up kickboxing and Muay Thai when she was nineteen, but secretly trained in boxing as a means to get an edge over kickboxing opponents. Aboro went on to win five British, one European, and three world titles in kickboxing.
On March 4, 1995, she debuted as a professional boxer, and her first three bouts were all first round knockout wins for Aboro. In her fourth fight, in October, she won by a sixth round technical knockout. Aboro followed with one more victory, and then, on November 29, 1997, she took on future world champion Daisy Lang, defeating her by a six round decision. The following year, Aboro fought Brigitte Pastor for the vacant WIBF European Super Bantamweight title, knocking her out in five rounds to win her first professional belt. She defended her title once, knocking out Galina Gumliiska in eight rounds on November 28, then followed that win with four consecutive wins before obtaining her first world title opportunity.
Aboro became a world champion when she fought Eva Jones, on February 5, 2000, knocking Jones out in round ten to become the WIBF's world Super Bantamweight champion. She entered the ring with future world champion Leona Brown on June 13, 2000, defeating Brown in a ten round decision. After two non-title wins, she faced the highly touted contender Kelsey Jeffries, who had a 10-2 record coming into their bout, for her second world championship defense. Aboro defended the title successfully against Jeffries on February 10, 2001, with a ten round decision win. After one more non-title victory, Aboro made what has been, to date, her last fight. On November 24, 2001, she beat Nadia Debras with a ten round decision, to retain her world title for the third time.
In 2002, the Super Bantamweight hung up her gloves. Aboro is among a select few in history to retire at the top of their game as an undefeated boxing champion. She won Kickboxing World Champion five times, and was a two-time undefeated world boxing champion as well as two-time K-1 Kickboxing Champion. From 1999 to 2002, she was voted "Pound for Pound" the best female boxer in the world.
In 2010, she established the Aboro Academy and Aboro Foundation with her partner, Yilan Yuen, in Shanghai China, where she now lives and trains future boxing champions. Aboro has worked to develop a unique training system that leverages the mind and body aspects of boxing to bring a program of fitness that is not only highly effective, but also fun. It's the combination of her special talents to motivate an individual or a group as well as her mastery of sport and fitness that have gained her a loyal following in Shanghai.
She chose Shanghai for its dynamism and friendly people. "Since I came here, I have had nothing but positive interactions with local Chinese people and overseas Chinese people," Aboro said. For me, the question is why wouldn't I be here?"
In the spring of 2012, Aboro was diagnosed with cancer, but is now in remission. "If I didn't look after my body, I wouldn't have recovered as quickly as I have right now," she pointed out. "They said I would never be able to use this arm again. Now I do push-ups. The sport that I have done saved me and my life," Aboro added.
Aboro was the subject of a documentary, "A Knock Out," which explains her contract termination because she didn't want to go for the glossy, feminine look for photo shoots.  As she explained, "They wanted me to be more feminine in my everyday life. I don't mind that for a photo shoot because that's a totally different ball game. I don't mind putting on make-up, I'm not scared of a dress. But in my everyday life, I'm not going to walk around in high heels and a dress and make-up because it's not the truth. Who wants to see me in "Playboy"? They'd be better off putting me in a lesbian magazine or something. But no, it wasn't for me, I was a sports persona."
Aboro is qualified as a teacher in boxing, Dutch Style kickboxing and Thai Boxing, and holds a Physical Education degree from Westminster University, London, UK.
"To me, combat sport is like a chess game. It's about out-smarting your opponent, it's not about strength. It's about accuracy and technique," Aboro explained to the "Global Times." "In a game, what I need to do is to think of a way to take away their weapon and make it my weapon. This is what I love about combat sport, is the way that you actually balance your mind and body." Aboro believes that participating in a sport like boxing can make people more confident and understand how to show their strength in a smart way.
We applaud Michele Aboro and thank her for her inspiring advocacy for women's sports, and for her many contributions to our community.