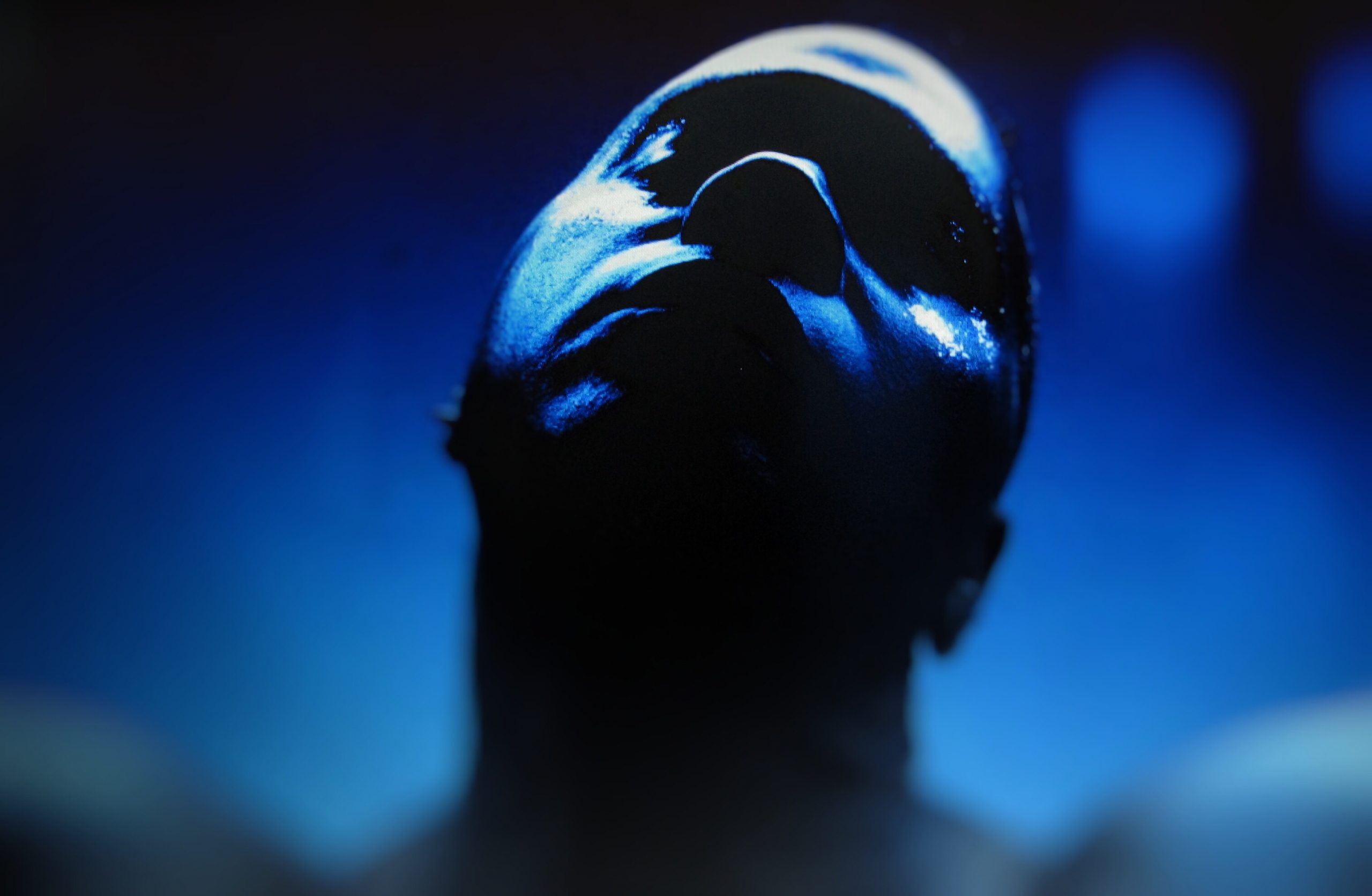 David Morrow
Afro Blue Self Portrait, David Morrow, 2017
David Morrow was born on August 7. He is an expatriate New York painter and photographer who has resided in Northern Europe for more than two decades, following in the traditions of African American artists Beauford Delaney, James Baldwin, and others, who were in search of escaping the oppressive racism and homophobia they encountered in the United States.
Born in Mount Vernon, New York, David Jonathan Morrow is the son of Robert E. Lee Morrow from South Carolina, and Dolores Morrow from Harlem. David grew up in the Bronx, where, as a boy, his mother enrolled him in the Metropolitan Museum's summer art program. Later, he attended the Art Students League followed by the School of Art and Design.
A few years after leaving high school in the late 1980s, David traveled to San Francisco to escape the oppressive racial conditions often directed at young Black men in New York. Along with a high school classmate and a friend from Paris he met in New York, he traveled cross-country to California. Scared and riddled with fear and anxiety, David traveled with his companions along the old Route 66. His fears were based on the stories of Black folks traveling home to the south from the north, a trip he and his family made when he was a boy. The journey across America was successful and without a single incident; people of all colors were kind and helpful to this odd urban trio.
After a year of feeling frustrated and struggling with being racially marginalized, particularly by San Francisco's gay community, David returned to New York. In Manhattan, he worked various odd jobs while attending the Arts Students League. It was at this time, by chance, that he attended James Baldwin's funeral. It was the spark that gave him the courage to travel to Europe alone.
After saving his money, he arrived in Rome, where he visited many of the artistic and historical sites that the city had to offer. It was his love for classical drawing and Caravaggio that he experienced during visits to the Met that drew him to the classical city of Western art. During the last two months of his stay in Italy, David enrolled in a language course at the Universita per Stranieri in Perugia, Italy. Yet, it was a day trip to Florence at the Boboli Gardens where he made a definitive decision to be an artist.
Returning to New York, David spent most of his time in Greenwich Village while living in Brooklyn and the Lower East Side. He frequented the downtown art scene and places like the Pyramid Club. During this period, he met an earlier Danish partner. The couple planned a two-week vacation to Copenhagen, only to wind up being partnered together legally and becoming one of the world's first same-sex couples.
In Copenhagen, David continued his interest in drawing, though on a grander scale. He enrolled at the Ny Carlsberg Glyptotek drawing school and drew inspiration from the museum's extensive collection of Greek, Roman and French sculpture.
While living in Copenhagen, David would visit his family in New York whenever possible, and in 2000, he organized a program which allowed him to stay for six months and return to the Art Students League funded by the Danish State. He explored the history of Abstract Expressionism and frequented galleries with the hope of showing his work.
It was on a gallery excursion that he met Corinne Jennings and Joe Overstreet at gallery Kenkeleba—a world he was never introduced to while growing up in New York. Corinne had asked him to bring some paintings to show her. He was overjoyed to finally meet two African American artists. Corinne particularly was very kind and showed an interest in him and his work.
In 2001, David organized what is known in art as the "Grand Tour" to Florence, Italy. Here he copied drawings from the Old Italian Renaissance masters such as Perugino and Jacopo da Pontormo in the library of the Uffize Gallery. David spent most of his time sketching and drawing while visiting many of the city's museums and gardens. One subject of interest for him was Michelangelo's David, housed in Galleria dell'Accademia.
After a month in Florence, he returned to Copenhagen and, because he was not satisfied with the art scene's covert racism and homophobia, he began his studies as a part time student. David felt that he never had the opportunity to obtain a full degree in anything while in New York, and thus he enrolled himself in adult education courses. As a foreigner, he struggled with the language, and after some years he obtained his gymnasium degree, which allowed him to enter the University of Copenhagen's English Department. He wanted to be able to teach English as a second language in order to pay the bills.
Putting his art work on the shelf, David dedicated his full attention to obtaining his bachelor's degree. Frustrated, depressed, and missing working with art, in 2008 he took a much-needed trip to Berlin. It was here that he returned slowly to his art through the medium of photography. After seeing Hiroshi Sugimoto's photograph of the World Trade Center after 9/11—which moved him to tears he as he recognized the artist's sense of alienation, isolation, and melancholy—he concluded that photography could express what he was feeling at that moment. That same afternoon, he was introduced to Wolfgang Tillman's work for the first time at a retrospective of the artist's work. It was the first time he saw photography's potential as a medium.
In 2012, David obtained his Bachelor's degree in English and Art History as a minor, but only to be confronted with a teacher's strike during this period. Despite this setback, he began to photograph the city of Copenhagen and its people. Because of his past experiences with the Danish society, he had his reservations; however, today David is well-known among the younger generation as a talented photographer. In his photographic work, he has explored street photography in Paris, Berlin, New York, Stockholm, and Copenhagen.
Today, David holds workshops in photography and painting, he has taught English, held several exhibitions, and is a regular in the rave scene in Copenhagen and Sweden. He has documented the queer movement, gay scene, the art scene, and music and fashion in Copenhagen, Paris, Berlin and New York. David has worked with various disciplines within art, including drawing, painting, installation, writing, digital collage, and photography.
At present, David is working with abstract photography as his prime medium and genre. His writing and photography has been featured in various publications in Europe. He says that his next medium will be street art. David also mentions that at times he is deeply homesick for New York, and would love to return home and explore artistically the city of his birth.
We thank David Morrow for his contributions to the arts, and for his support of our community.